Collin County ranked second in the nation and Denton County came in sixth for adding the most residents between July 2020 and July 2021, according to a March 24 news release by the U.S. Census Bureau.
On the list of top 10 counties for numeric growth in the nation, Collin County recorded 36,313 new residents, while Denton County saw 27,747. Tarrant County added nearly 12,000 residents over the yearlong period, data showed.
In addition to ranking second in numeric growth, Collin County is also ranked third in the nation for the most residents gained from domestic migration, according to the release.
Dallas County saw a population decrease of about 25,000 people between July 2020 and July 2021 but still ranks ninth among the most populous counties in the nation.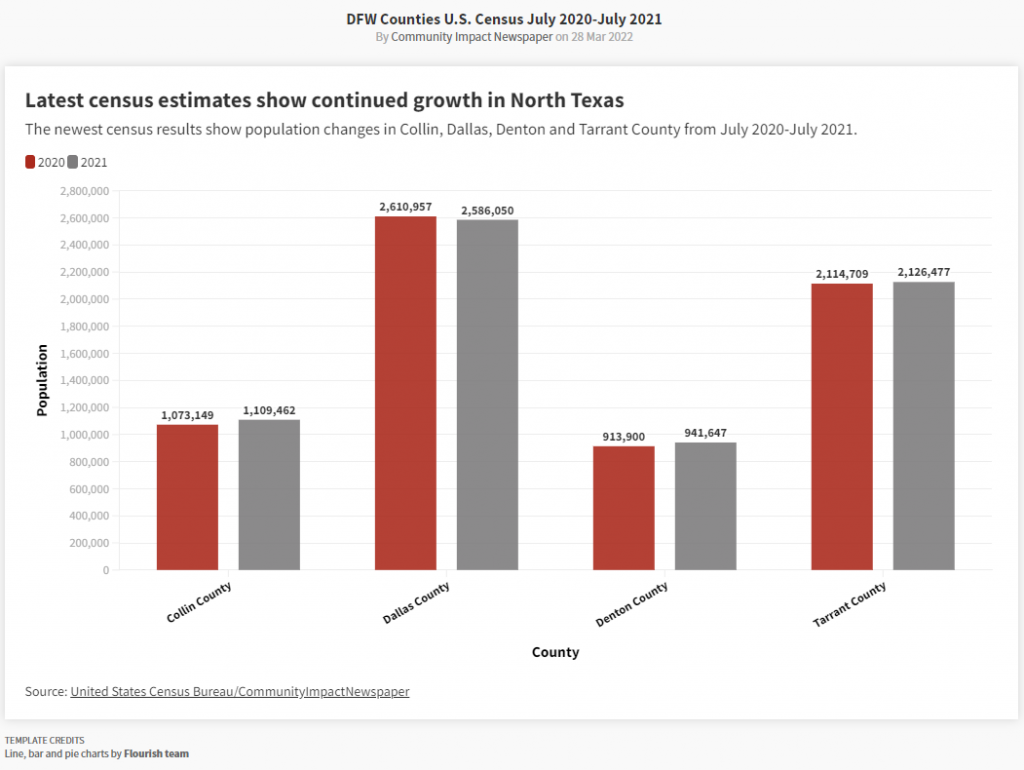 The Dallas-Fort Worth-Arlington metro area as a whole had the most population growth among metro areas in the nation, according to U.S. census estimates comparing July 2020 to July 2021.
The DFW metroplex jumped from an overall ranking of fourth in population growth between July 2019-July 2020 to first in the nation for the period between July 2020-July 2021, the release stated.
The 2020 census reported a DFW population of more than 7.6 million. In 2021, the census estimated the metro population had increased to more than 7.75 million. That growth of an estimated 97,290 residents moved DFW to the No. 1 metro spot in the nation for population growth from July 2020-July 2021. Coming in second was the Phoenix-Mesa-Chandler area in Arizona, which saw an estimated population increase of 78,220 people during that period, data showed.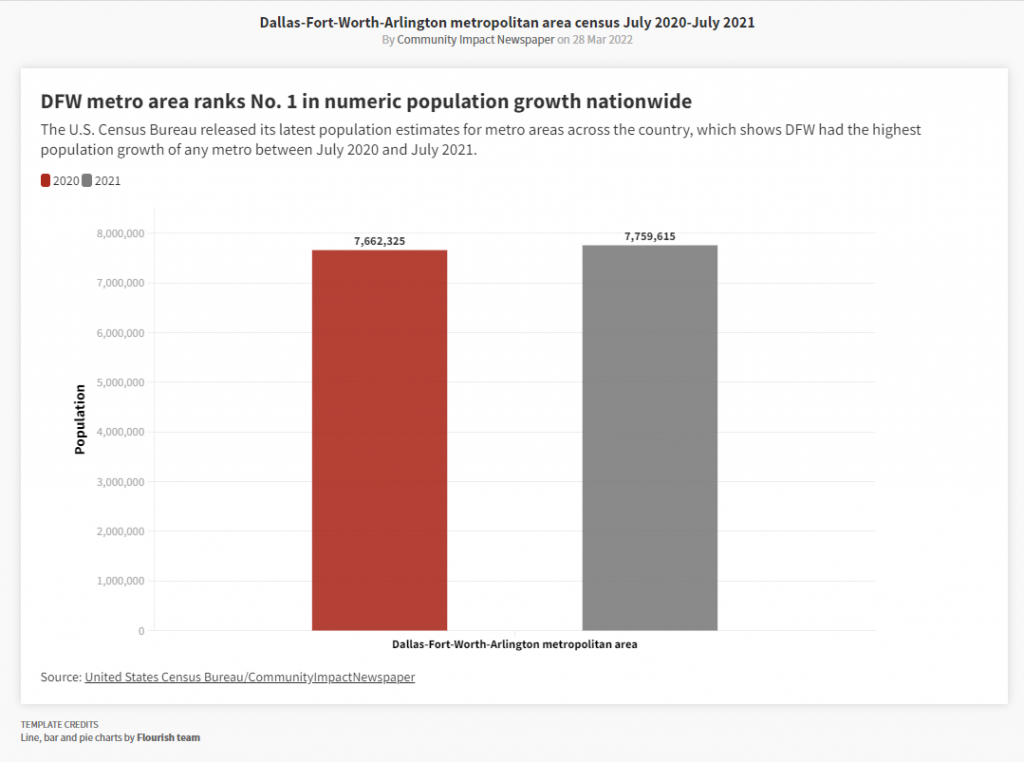 Collin, Denton and Tarrant County also saw growth when looking only at the number of deaths versus the number of births. This natural increase in population set North Texas apart from a trend that saw more than two-thirds of the counties nationwide experiencing a natural population decrease in 2021.
"In 2021, fewer births, an aging population and increased mortality intensified by the COVID-19 pandemic—contributed to a rise in natural decrease," according to the March 24 release.
For more information on population growth in metropolitan areas and counties throughout the nation, visit the U.S. Census Bureau online press release.
Source: https://communityimpact.com/dallas-fort-worth/na/data-reference/2022/03/29/collin-denton-tarrant-counties-see-population-increases-dfw-ranks-first-nationwide-in-population-growth