(Rendering courtesy Gensler)
The firm behind McKinney's upcoming West Grove development announced March 23 that it has netted Whole Foods as the project's anchor tenant.
West Grove—a 600,000-square-foot retail, restaurant and entertainment destination at the southeast corner of US 380 and Custer Road—is starting construction later this year, according to Artemio De La Vega, president and CEO of De La Vega Capital and Development. In addition to Whole Foods, the project will also feature 420 luxury apartments, 55,000 square feet of office space and a 2-acre community park.
This will be the first Whole Foods Market in McKinney, the release from De La Vega Capital and Development stated.
"West Grove will be designed to bring people and a growing city together," De La Vega said in the release. "A central green space and a considered mix of open-air, experience-driven retail and restaurant spaces will cultivate a sense of community, where visitors can connect meaningfully with each other and their natural environment. With a mission to nourish people and the planet, Whole Foods Market is the perfect addition to West Grove."
Plans for West Grove include a neighboring entertainment venue called The Hub, which will feature a stage, an event lawn, and surrounding retail and restaurants. McKinney Mayor George Fuller counted The Hub and Whole Foods Market as amenities residents "need and will enjoy for years to come."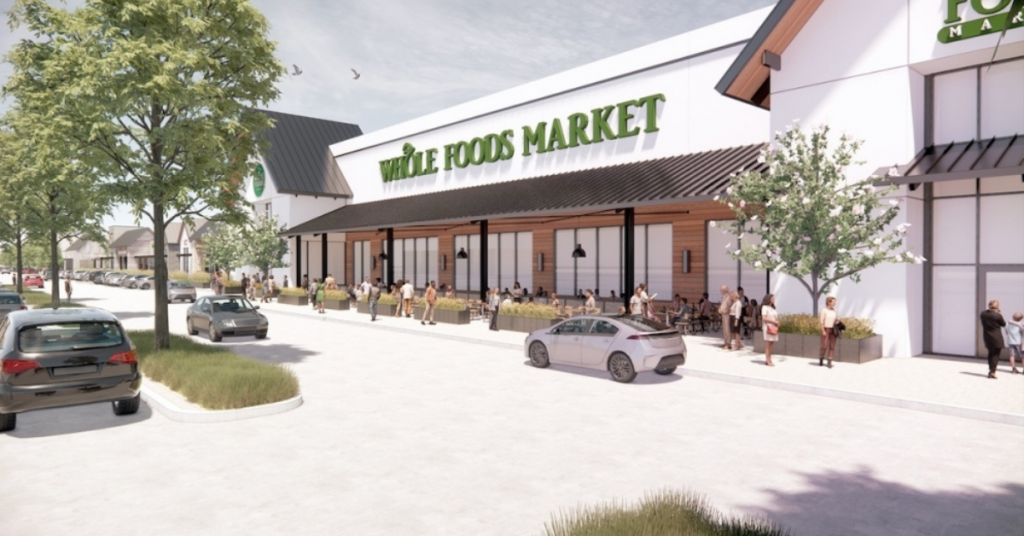 (Rendering courtesy Gensler)
"McKinney is a community that understands the importance of taking care of ourselves, and with a focus on health and well-being, we are thrilled to be adding Whole Foods Market to our city," Fuller said in a statement.
West Grove is scheduled to break ground later this year.
Source: https://communityimpact.com/dallas-fort-worth/mckinney/development/2022/03/23/whole-foods-market-to-open-in-mckinneys-west-grove-development/