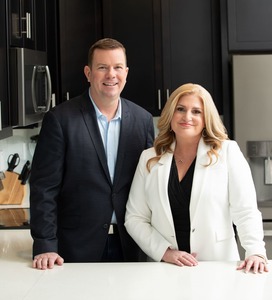 Dave Courtney & Carrie Courtney
Years before real estate became this huge, exciting part of her life, Carrie Courtney founded, developed, operated, and eventually sold two profitable businesses in Central Florida. That entrepreneurial spirit led to Carrie earning her real estate license in 2006. She soon became a top RE/MAX agent and recipient of multiple, coveted industry awards.
In 2012, Carrie and her husband, Dave, alongside two other top-performing agents launched their boutique-style brokerage: Changing Latitudes Real Estate & Property Management. Five years later, Carrie became a member of the National Association of Expert Advisors™, an elite group of agents certified to prepare and present a home selling strategy that gets homes sold faster, and for up to 18% more than the average real estate agent. As COVID closed the country in 2020, Carrie was chosen as a HomeLight Elite Agent, a new standard of excellence in real estate that recognizes agents ranked in the top 1% of their respective markets. This status remains a highly sought-after and rare achievement, even more so as Carrie was a founding member of this region´s Elite Agent launch group, an honor of its own.
Originally from Michigan, Carrie has lived in Central Florida for more than 30 years. No matter the project, Carrie is passionate about marketing and providing quality experiences for each one of her clients.
Over the years, Carrie´s formed relationships with some of the most dependable, honest affiliates in the real estate industry. In combination with her persistent negotiating and problem-solving abilities, (one big reason why most of her business stems from repeat clients and personal referrals!), these relationships helped build Carrie into one of the top-producing agents in the
market.
Carrie is very selective about her company growth. Her agents are sometimes recruited pre-license, and are chosen based on their self-motivation, willingness to learn, and passion to serve others. Having an innovative, quality team dedicated to serving clients with care, consideration, and knowledge is truly Carrie´s primary focus.
Carrie embodies customer service and believes it her duty to deliver a client experience several levels higher than simply excellent service. It is not unusual for her clients to become good friends, which helps explain our Team
motto: "Carrie Courtney & Company – where clients are like family – come join our family."
When not hard at work, Carrie makes sure to enjoy the Florida lifestyle (living life just like a Jimmy Buffett song!) She loves traveling the Sunshine State and creating amazing memories with best friend and husband, Dave, and their seven grown children.
Also, a resident of Central Florida for more than 30 years, Dave Courtney is licensed for more than 20 years and has worked in all aspects of real estate sales, management, and leasing. Before opening Changing Latitudes Real Estate & Property Management, Dave was a Broker/Associate with RE/MAX for 10+ years.
In the past, Dave has held investor purchase seminars and showcased his investment properties in European cities such as London, Manchester, Utrecht, Dublin, and all throughout the U.S. He´s been called as an expert witness involving real estate disputes, lectured at real estate conferences, and taught numerous classes at the Association of Realtors. To date, Dave has successfully closed more than 3,000 real estate transactions.
Dave's prior management experience includes 10 years with Wet 'n Wild Water Parks and five years as an Opening Crew restaurant manager with the Cheesecake Factory in Chicago and Orlando. Happily married to his real estate partner, and partner in life, Carrie,
the married couple have seven beautiful, grown children.
Although Dave is still a Licensed Real Estate Broker, he no longer works with buyers or lists homes. Dave handles all contract negotiating and support work for the team, he ensures that everything is completed correctly and that timelines are adhered to when you buy or sell a home. Dave makes the process easy for you since buying and selling can be overwhelming, to say the least! There are times during the transaction when the sheer number of things to keep track of would keep you up at night. That's where Dave comes in. He'll take care of it all for you, he negotiates on your behalf, explains what needs to be done, why it needs to be done, and when it needs to be done. His job is to make things as easy as possible for you and get you the best outcome possible.